Time to link up with Shannon at Life After I "Dew" for So What! Wednesday!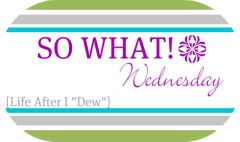 So What! if Chris faxed paperwork into work the other night and didn't realize until later that one of Bethany's science flashcards was stuck to one of the pages? They're studying the skeletal system, and the flashcard just happened to say "Pelvis." Bethany could not figure out why I thought this was hilarious.
So What! if I feel a twinge of hope every month that maybe I'm pregnant, even though we have 100% agreed that we're done having babies AND Chris had the big V at the beginning of the year? I think I'm just one of those people who is always going to secretly kinda want babies, no matter what!
So What! if I have this horrible cough that keeps me up at night, but yet I insist upon eating ice cream every single day? I'm weak, and I have no other answer for this dilemma.
So What! if I doze off while watching Punky Brewster with the kids almost every night, even though they are so careful not to start an episode without me and insist on pausing it every time I have to get up for any reason? It's the togetherness that counts,right? (regardless of the wakefulness...)
So What! if I cannot for the life of me keep up with all the crap the kids have going on? I know I need to be more organized and more on top of things, but am I really responsible for going through my fifth grader's agenda with a fine tooth comb every day to realize that she has a social studies test BEFORE the night before the test?
So What! if I'm not getting done nearly as much as I would like every night because I'm sticking to my new bedtime? My complexion will thank me, even if my laundry will not.
What about you? What are you saying So What! to this week?