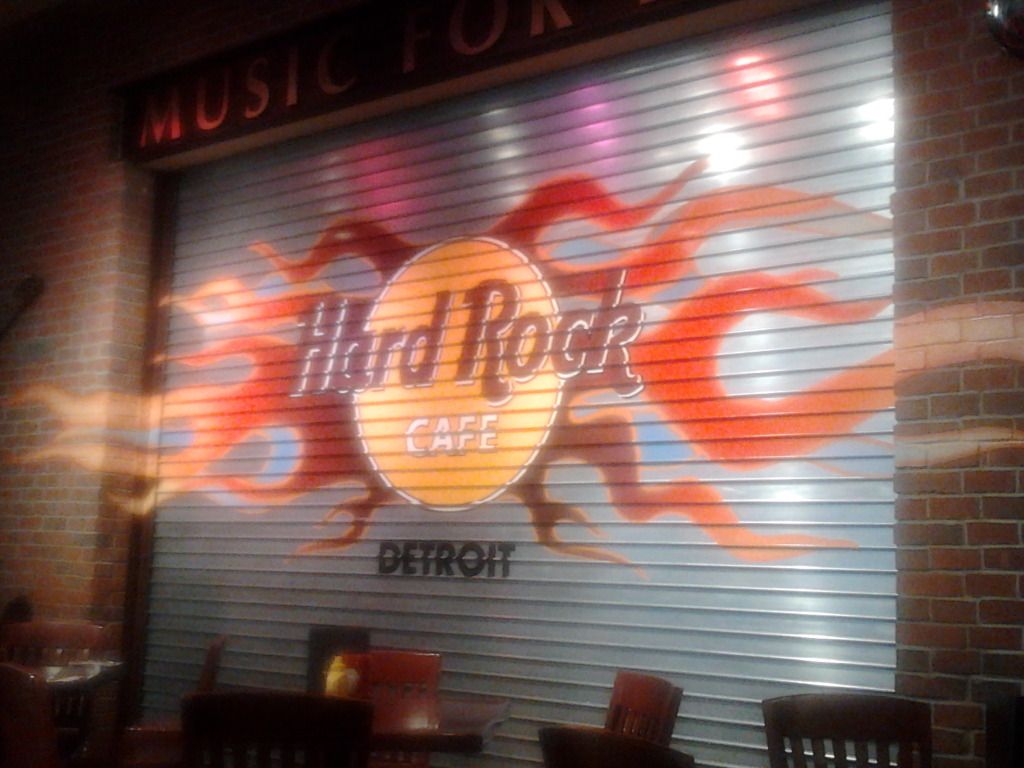 Inside Hard Rock Cafe Detroit
Chris and I don't get out much by ourselves, I'm sad to say. We really need to make that more of a priority, but our babysitter pool is pretty miniscule. I actually can't remember the last time the two of us went out anywhere with no children...that is, until last night.
Hard Rock Cafe
has been in Detroit for years, yet somehow we never managed to get downtown to check it out. We have been to Hard Rocks in other cities, but that was before kids interrupted our couple time. When
My Blog Spark
offered me the opportunity have a meal at Hard Rock Cafe, I was pleased to A) have an excuse for a date night with my husband, and B) get to visit a restaurant I had been meaning to get to for awhile.
Hard Rock Cafe Detroit is located on Monroe Street in downtown Detroit, inside the Compuware World Headquarters building, and right across the street from Campus Martius. On a Sunday night we were able to score free street parking on the same block as the restaurant. Like all Hard Rock Cafes, the inside is decorated with a variety of music memorabilia, including a dress worn by native Michigander Madonna, Michael Jackson's black leather studded jacket (think
Beat It
), and lots of Motown artifacts. The colorful stained glass mural behind the bar adds something unique to the atmosphere. There's plenty to look at , without being cluttered or overbearing.
Hard Rock sign, taken from Campus Martius
From the moment we walked into the Hard Rock, the staff was extremely accommodating and pleasant. Our waiter was great, as well as knowledgeable about the restaurant's decorative pieces. Once we got our food, I don't think a Hard Rock employee walked by our table without checking to make sure we were doing okay and that we didn't need anything. Not in an annoying, awkward way either. Just a pleasant, "you doing okay?" while strolling past our table. I should mention that the Sunday night crowd was sparse, so I'm not sure if the staff is quite so attentive when it's experiencing heavier traffic.
Chris and I started our meal with an appetizer of Balsamic Tomato Bruschetta, which was flavorful and fresh. We each enjoyed a fruity non-alcoholic beverage - Chris had a berry lemonade and I had a fruit smoothie - served in "Keeper" glasses, which, FYI, will set you back $10 a piece. They don't make you take home the glasses in which your drinks are served; instead you take your receipt to the gift shop after your meal, at which point you'll be presented with spankin' new glasses, neatly boxed up and ready to go. Chris decided to cheat big from the vegetarian diet, and ordered the Hickory Smoked Bar-B-Que Trio Combo, with a side Caesar salad. He had no complaints and no leftovers, and it looked and smelled scrumptious. I've been sticking to vegetarianism pretty strictly (with the exception of one fish dinner a few weeks ago), so I had a bit of a trickier time finding a suitable entree. There is a Veggie Leggie burger on the menu, but I had a veggie burger for lunch yesterday so I wanted something different. I went with the Honey-Citrus Grilled Chicken Salad, without the chicken. I don't like soggy lettuce or onions, so I also skipped the onions and the dressing. Salad is pretty much my favorite meal, and I especially love restaurant salads, mainly because I don't have to make them. This one was loaded with oranges, spiced pecans, red pepper strips, dried cranberries, and blue cheese crumbles. It was fresh, crisp, cool, and delicious. I was not overly impressed with the serving size, but it was enough. Also, it didn't come with so much as a roll or a bread stick. That's okay, since we had the Bruschetta, but if not for that I would have been wanting a little something to go with my salad. I was tempted to try something from the dessert menu, such as the Fresh Apple Cobbler served with Ben & Jerry's ice cream, but I was full and exercised self-control for once. This will warrant a return visit, maybe even just for dessert. All in all, it was a satisfying meal with fresh ingredients and adequate portions.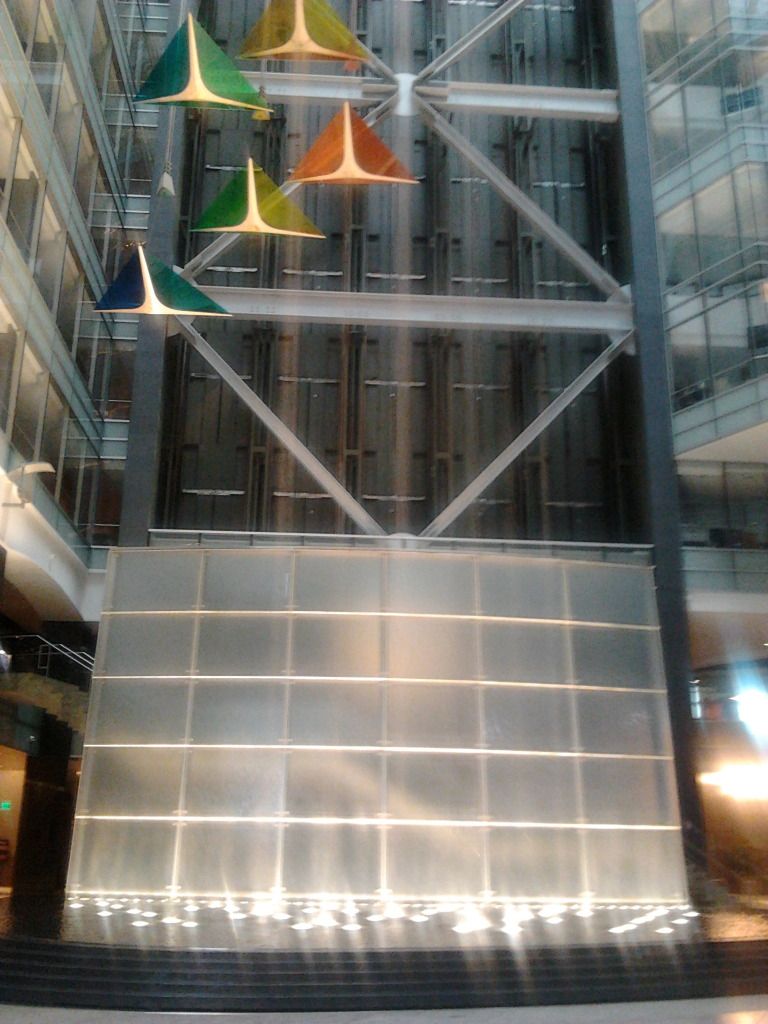 Inside the Compuware Headquarters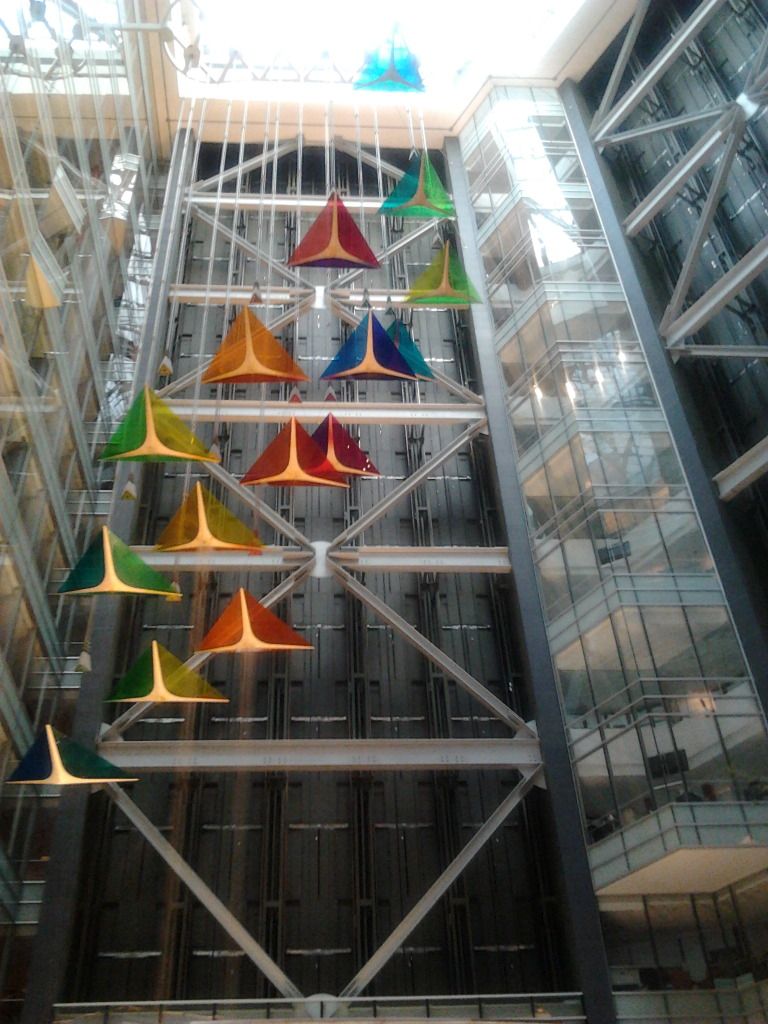 And the kite sculptures go all the way up to the ceiling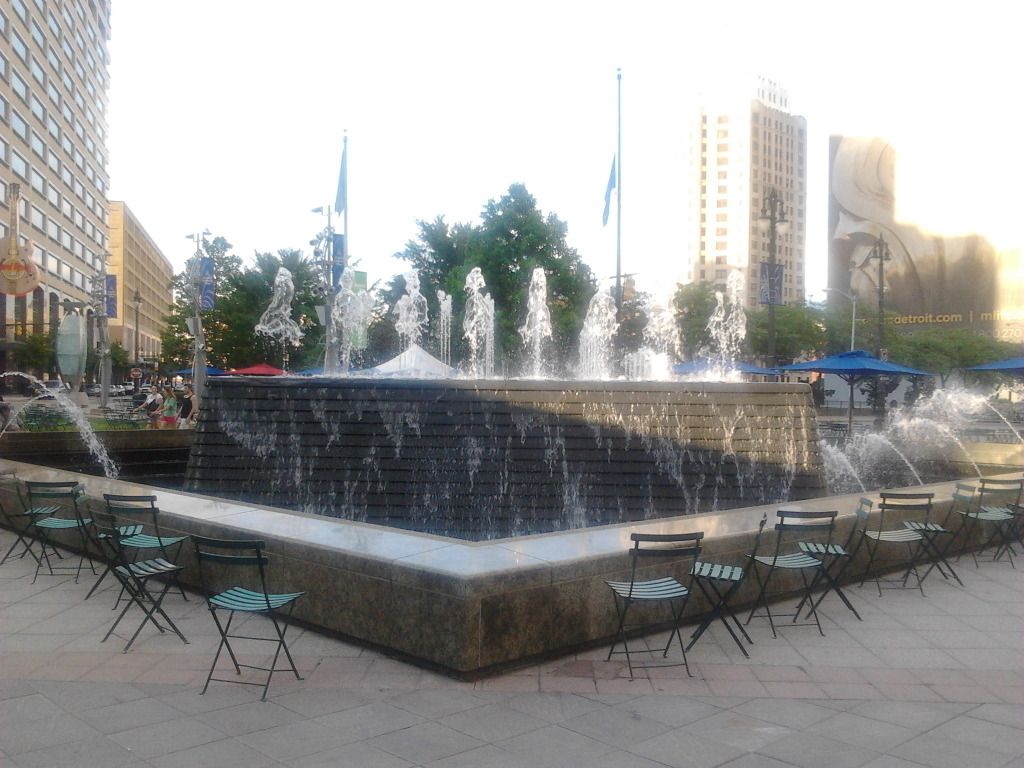 Fountain at Campus Martius
Compuware & Campus Martius
An alternate exit leads into the Compuware lobby, which is worth a look for its stunning fountain and sculpture, rising 14 stories high. After enjoying the view for a few minutes, we went back in the restaurant and left through the street exit on Monroe, stopping in the gift shop along the way to pick up our Keeper glasses. Before heading home, we took a few minutes to stroll through Campus Martius, soaking up the beautiful evening as much as we could. Campus Martius is known for its ice skating rink during the winter months, but this time of year there are little tables set up all around, which I hope see a lot of lunch time action during the work week. A sign advertised movie nights in the park throughout the summer. A bandstand occasionally hosts live music, and a little cafe sits in the middle of the park, situated right in front of the fountain. But last night was quiet, with just a spattering of people walking around or sitting at one of the many tables.
We had a lovely date night, and I am inspired to make evenings like that happen more often. Are you desperate for some one-on-one with your significant other? Or maybe dying for a girls night? Maybe you'd like to try the Hard Rock Cafe in your neck of the woods? If so, I have great news because I am giving one lucky winner a $50 gift card for Hard Rock Cafe! Interested? Just enter using the Rafflecopter form below! Good luck!
Disclosure: The promotional cards and information have been provided courtesy of Hard Rock International through MyBlogSpark. All opinions are my own.
a Rafflecopter giveaway